My Legend of Sleepy Hollow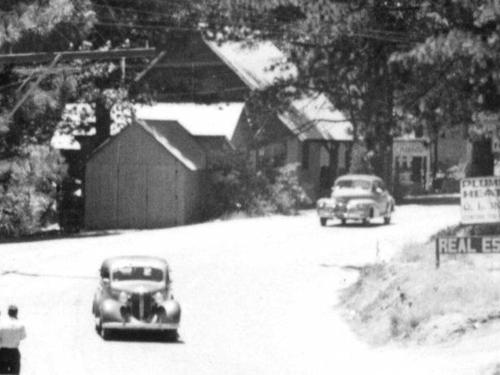 When I bought Sleepy Hollow Cabin in Crestline, I started researching the history and reached out to Virginia Alban who owned it from 1965 to 1990. She and her husband operated it and raised their children here. I discovered the cabins
and office were built in 1947-48 and stretched from their current location all the way down to The Oak Trunk, blocks away. When the Alban family purchased the property in 1965, the sale included the current property but not the adjacent lots. The Mint Fawn and Blue Bird cabins were moved to their current location just before 1965 and the adjacent lots were sold separately to later become the bowling alley. The swimming pool was added in 1968.
To make additional parking, a family friend removed three garages. Piece by piece in the wee hours. The garages were transported to the Valley of Enchantment. "What a sight to see huge bits of a garage traveling down Lake Drive," laughed Virginia Alban.
In 1982, cabins #5, #9 and #10 were removed to make way for the two-story Hotel building. "During the 1970s the entire complex was rented to film crews on two different occasions," added Virginia. During the filming of Skateboard to Hell, Virginia and son, Richard were shown on the front porch under the old Sleepy Hollow sign. "Can you believe they had some of the women in the film dancing topless on the outside tables of the old A & W," Alban continued. (Currently called the A burger and still to this day, operated by Liz)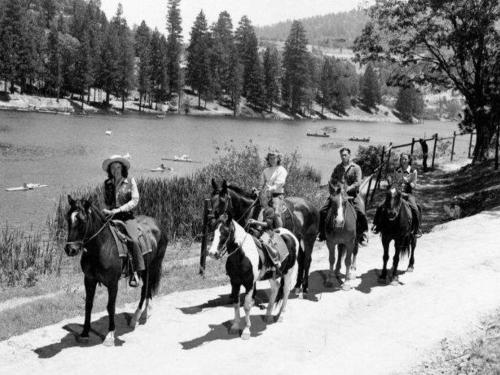 In 1990 The Alban children were all grown up and the Albans decided to sell Sleepy Hollow to Ralph and Dorie Reeder. They raised their daughter here and meticulously operated the business.
In their first year here, fallen trees from a heavy snowstorm leveled two cabins in March 1991. They were rebuilt into suites and given new names, the Grey Squirrel and the Shy Bunny. Many upgrades and improvements have been done to the property including an in-ground hot tub that seats up to 15, added in 1995, and a complete redo of the pool.
When the Reeder's decided to sell, they searched for the right person that would continue to run Sleepy Hollow as it has been for over 60 years. They wanted to make sure it wouldn't be turned into anything other than what it was. I instantly fell in love with the history and the charm of Sleepy Hollow and felt honored to become part of this living history and join the ranks of Virginia Alban, of whom I admire. In talking with her on several occasions, she has sent me the historical photos you're seeing in this article. I have also shared them with our local historical society, who are desperate to find more old photos of town, the old club San Moritz and the many local activities like ice skating, horseback riding, miniature golf and more. There are little to no photos outside of the lake itself. So, if you may have some and would be willing to share, they can be digitally copied by the Historical Society and promptly retuned unharmed, contact Russ Keller at (909) 338-8232
Since May 2006, I have been busy remodeling many of the cabins, main office and grounds, while maintaining the history and rustic charm generations have come to love. All of the modern comforts of home have been added, like all new mattresses and bedding, phones, high speed wireless internet and LED LCD flat screen TV's. The new asphalt parking lot, all new "high efficiency" heating, air conditioning water heaters, refrigerators and appliances, are just a few of the major updates done recently.
Updating and remodeling is a constant commitment I have for Sleepy Hollow. I will never remove Cedar wood walls for drywall and spot lights. But I think there is something for everyone here. Our hotel rooms and suites appeal to those liking a more modern feel, while our cabins keep their rustic feel.
My favorite part about being here is hearing my customers lovingly told stories about growing up coming to Sleepy Hollow every year for vacation, and their vivid memories. There was a family that came, seven siblings now in their 40 and 50's, that came every year as kids and had a reunion here last year. They had photo albums of their times in Crestline and one photo of all of them sitting in the gazebo in the same order year after year. I was honored to take another of that same photo for them. Every day I get to hear another story of someone that is now passing the tradition and bringing their young son fishing at Lake Gregory, like their father and grandfather brought them. And then I realize how lucky I am to be a part of those stories and I also realize what a magical place Lake Gregory really is.
I hope you will come enjoy Sleepy Hollow Cabins and all the natural beauty the San Bernardino Mountains has to offer.
Sincerely,
Trina Brettmann